Jet City Guitars – by players, for players

At Jet City Guitars we have more than 50 years of experience playing professionally and collecting and trading vintage instruments. Our appreciation of great old guitars comes naturally from being fans of a wide range of American music – from acoustic blues and country music of the 1920s and 1930s to rhythm and blues and the birth of rock and roll. As players, we pride ourselves in finding great guitars that are a joy to play as well as being collectible investments. When necessary we restore these great instruments to their original tone and playability without interfering with their vintage character. We love to buy, play, and restore these great guitars. Often we hate to part with them! We try to offer a range of instruments from museum-quality pieces to "players" instruments. Because we are an Internet and mail order-only business and do not have retail overhead, we are able to pass some savings on to our customers, and can use more of our resources to acquire great instruments. While we specialize in pre-war Martins and Gibson acoustics, we are also rock n roll fans and will consider any great guitar in trade. We are always looking to buy or take in trade old Gibson flattops and depression-era Martins, especially 0, 000, and OM guitars. Please contact us if you have such a guitar to sell. We pay fair prices for great guitars. We will also take on consignment guitars from the Seattle area. Visit our web site often to see our frequently updated inventory. If you are in the Seattle area or visiting and you would like to play one of our guitars, please contact us in advance via email.

The Jet City Players – Biography

ALLEN KATZ

Al learned a little drums and piano as a kid but as a teenager became seduced by the music of the mid 60s -- early influences included The Ventures, Motown, Steve Cropper, The Beatles and others. In 1966 he acquired his first decent guitar, a Hofner archtop. In the early 70s he discovered the blues and started to collect records and guitars… Throughout the '70s Al played professionally in various Country, Rock ,and R & B bands around central Washington state and in Ithaca, NY, ending the decade touring and recording with Doug Kershaw and Bonnie Bramlett. During the next ten years he continued to perform in Seattle area clubs, and worked as a sideman with classic American artists such as Etta James, Big Mama Thornton, Bell & James, Mary Wells, Charlie Musslewhite, Bo Diddley and others. Al's eclectic taste in music stretches from reggae, funk, Cajun, Country & Western, country blues, surf and beyond. He currently teaches and continues to perform regularly with various groups in the Pacific Northwest area. His current favorite things include a 1933 Martin 0-18, a '34 12-fret 000-28H, a '63 hardtail Strat, a 1996 Historic Reissue Les Paul Custom, a '53 Les Paul Goldtop, and a 1952 Fender Telecaster. Al is a guy who knows good sounding guitars!

JAMES BROWN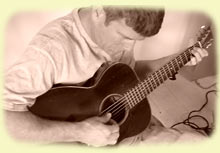 Jim's playing career started at age 12 with a $15 Sears Silvertone sunburst acoustic. From his early playing days, Jim retains only his love of music and his obsession with sunburst guitars. His junior high school band – The Four Festies – went nowhere fast although Jim & company practiced every day (Jim on his sunburst Hagstrom electric, ala Frank Zappa) for more than three years. In high school, Jim played in coffeehouses in the Kansas City metropolitan area to absolutely no acclaim, critical or otherwise. Jim's playing took a 20-year hiatus while Jim pursued a business career, most recently with Microsoft. Jim resumed playing last year under the tutelage of Allen Kaatz, one of the finest players and teachers in the Pacific Northwest. Jim currently plays a 1938 Martin 0-18 (sunburst), 1934 Martin 000-18, and a 1926 Martin 0-18.